NANOSTAL – technologies of heat and thermochemical treatment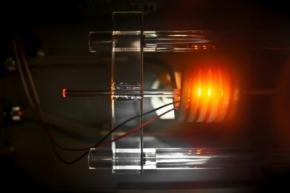 The interest of our group focuses on shaping mechanical and functional properties of steel via selection of chemical composition and heat treatment to obtain optimal phase composition and microstructure.
Proper microstructure and properties can be achieved through designing innovative heat treatment, such as formation of nanostructure via phase transformation. Our research is conducted on hybrid treatment, which could connect thermochemical treatment (nitriding, carburizing, et cetera) with processes of nanostructurisation of steel. The aim of this study is to obtain a hard layer resistant to cracking with gradient transition to sub-micron, ductile core. New technologies are developed in order to obtain multi-phase steel, which would be characterized by high formability and tensile strength. Other research is conducted on phase transformation kinetics by various microscopic techniques – light, scanning and transmission microscopy. A broad range of studies of mechanical and functional properties is conducted, as well as examination of degradation of the obtained structure and properties under the influence of external factors: temperature, corrosive environment and strain, including hydrogen fragility, abrasive wear and fatigue strength. Research and projects carried out within our group are mostly practical – aimed at creating innovative heat treatment for the production of steel elements with special properties. More information on: www.nanostal.eu

Research activities
Nanostructurisation of steel via phase transformation.
Technology combining processes of nanostructurisation of steel with carburizing and nitriding.
Hybrid methods of surface engineering of metallic compounds.
Surface engineering of nanocrystalline steel and foundry iron alloys.
Electron microscopy
Dilatometry of phase transformation in metals
Scaling of heat treatment technology to industrial conditions
Nanocrystalline tool steels
Gradient nanostructure on carburized steels
Designing heat treatment of foundry iron alloys
Hardening deformation in heat treatment
Magnetic measurements of steel phase composition.

Research offer
Phase transformation studies via dilatometer studies
Designing conventional heat and thermochemical treatments
Designing modern heat treatments of steel – bainitic nanostructurisation (NB), treatment of multi-phase steels (DP, CP, TRIP), innovative heat treatments (Q&P, B-Q&P, B-Q&T).
Performing heat treatment of metal alloys
Heat treatments of iron alloys – hardening, quenching and partitioning, isothermal quenching, austempering and others.
Characterization of microstructure via light, scanning and transmission microscopy.
Analysis of phase composition.
Tests of basic mechanical properties – hardness, micro hardness, impact strength, yield and tensile strength.
Wear resistance studies.
Corrosion resistance studies.
Materials expertise: determining the causes of failure and damage in parts and construction made on steel, cast iron and other alloys.

Research infrastructure
Bähr DIL 805L dilatometer
NIKON Eclipse MA200 light microscope
Automatic hardness tester - Zwick / Roell Z2.5
Zwick / Roell ZHR hardness tester
Hammer Zwick / Roell RKP450
Tribotester for wear tests with the "ball + disc" method
Gas-tight chamber furnace - type FCF-V12PrG
Fluidized bed furnace
High temperature hardening bath
Muffle and chamber furnaces
Stand for heat and thermo-chemical treatments in ultra clean atmospheres
ATM Brillant 220 precision cutter
Transmission electron microscope JEOL 1200EX

Projects
Research collaboration
National collaboration
Patentus S.A., Pszczyna
Warszawskie Zakłady Mechaniczne "PZL-WUZETEM" S.A., Warsaw.
Mennica Polska S. A., Warsaw
SECO/WARWICK S.A., Świebodzin
Koelner Łańcucka Fabryka Śrub Sp. z o.o., Łańcut
Institute of Precision Mechanics, Warsaw
The Institute for Sustainable Technologies – National Research Institute, Radom
International collaboration
Central Metallurgical Research and Development Institute - CMRDI, Helwan, Cairo, Egypt | prof. Adel Nofal
Spanish National Centre for Metals Research (CENIM), Madrid, Spain | dr Carlos Garcia-Mateo
COMTES FHT A.S., Dobrany, Czech Republic | Daniela Hauserova
Contact
Professor Wiesław Świątnicki
wieslaw.swiatnicki@pw.edu.pl
+48 22 234 81 03, +48 509 823 432
Division of Surface Engineering
www.nanostal.eu