Porous materials team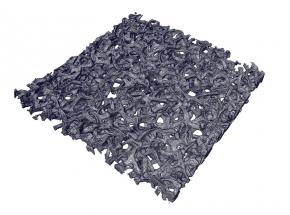 The Team is a part of the Division of Materials Design of the Faculty of Materials Science and Engineering at the Warsaw University of Technology. Its research is focused on high porosity materials. The activities of the team include production, characterisation and numerical modelling techniques in order to design the microstructure and properties of porous materials and the processes taking place in them.
The production of materials is based on such techniques as: tape casting, 3D printing, chemical and electrochemical surface modification. Characterisation includes advanced material structure studies (porosity measurements, electron microscopy, X-ray tomography, FIB-SEM and quantitative analysis of 2D and 3D structure images). Characterisation also entails electrochemical testing (including EIS testing), permeability and electrical conductivity testing. An important element of the research is the modelling of structure, properties and processes with the use of advanced computer modelling techniques, such as DFT, molecular dynamics and FEM.
The activities of the Team focus especially on such issues as:
catalysts,
fuel cells,filters and membranes - passive and active,
storage of liquids and gases,
heat exchangers,
acoustic barriers,
thermal barriers.
Research in this area is conducted in cooperation with foreign institutions, including: Technische Universität (Germany), Ulm University (Germany), National Cheng Kung University (Taiwan), Nanyang Technological University (Singapore), Hanbat National University (South Korea), University of Averio (Portugal), University of Oslo (Norway), SINTEF (Norway), University of Cape Peninsula (Republic of South Africa).

Services offered
fabrication of materials for fuel cells, filters, catalysis † 3D printing of porous materials
characterisation of the structure, properties and physical, chemical and electrochemical processes in high porosity materials
quantitative analysis of the structure of porous materials
design of open-porous materials – modelling of their structure, properties and processes.

Selected projects
High temperature molten carbonate fuel cells (NCBR, PBS 3, 2015–2018)
Innovative electrolyte matrix materials for carbonate fuel cells (Poland-Taiwan Cooperation, 2016–2019)
Innovative carbonate-ceramic composite materials as CO2 capture and disposal technologies for sustainable energy (M-ERA_NET 2, 2017–2021)
Improved production of fuel cells aimed at extending the life time, improving operating parameters, in particular power per unit volume / mass of the cell, and reducing investment and operating costs through the use of alternative catalytic systems in printing technology (POIR, 2016–2020)
Development of a technology for the recovery of precious metals and rare earth metals for the production of carbonate fuel cell elements (POIR, 2017–2021)
Hierarchical porous structures fabricated by 3D printing technology (NCN, 2019-2023)
Research infrastructure
2x tape caster
Retch PM400 planetary mill
Thinky ARV 930 TWIN planetary vacuum homogenizer
Czylok FCF-V70C/ R atmospheric furnace
NORECS AS electrochemical test stand
GAMRY3000 impedance spectroscopy test set
Permeability test stand
Conductivity test stand
FDM Ultimaker S5 printer
3Devo extruder
Patents and patent applications
Heat exchanger with a cooling system, especially for a thermoelectric generator (PL 228521)
Carbonate fuel cell matrix with increased fracture toughness (P.415522)
Method for producing a high open porosity carbonate fuel cell cathode (P.427754)

Contact
Tomasz Wejrzanowski, Associate Prof., PhD, DSc, Eng.
tomasz.wejrzanowski@pw.edu.pl
(+48) 22 234 87 42