Characteristics of materials after plastic deformation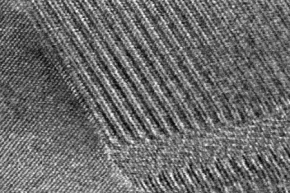 The research work focuses mainly on the processes of severe plastic deformation and the accompanying effects of microstructure and properties changes.
The research includes evolution of texture, microstructure and residual stresses as well as phase composition. Research is also carried out on the influence of severe plastic deformation on thermal stability of microstructure and mechanical properties (including instability of plastic deformation – Portevin-Le Chatelier effect) and description of degradation processes.

Research activities
The influence of severe plastic deformation on corrosion resistance of Al-Mg alloys
The influence of severe plastic deformation on the microstructure and mechanical properties of aluminum alloys
Corrosion tests of Mg-Li alloys after plastic deformation
Analysis of phase transformations, microstructure and mechanical properties of duplex steels after severe plastic deformation and heat treatment processes
The influence of plastic deformation on the evolution of the microstructure of single crystals and polycrystals with different stacking fault energy (SFE)
Texture development in single crystals and polycrystals after plastic deformation
Thermal stability of polycrystalline materials after severe plastic deformation
Development of technological guidelines for obtaining copper substrates with a developed surface for photovoltaic applications

Research offer
Elemental analysis using wavelength dispersive X-ray fluorescence spectrometry (WDXRF)
Phase composition, measurements of residual stress, texture and thin layers analysis using X-ray diffraction
Microstructure observations - scanning electron microscopy (SEM), transmission electron microscopy (TEM) and identification of crystalline materials using the electron back scattered diffraction (EBSD) technique
Electrochemical and stress corrosion resistance tests

Projects
Research collaboration
Faculty of Mechanical Engineering, Lodz University of Technology, Lodz
Faculty of Materials Engineering and Metallurgy, Silesian University of Technology, Katowice
Faculty of Non-Ferrous Metals, AGH University of Science and Technology, Krakow
Faculty of Microsystem Electronics and Photonics, Wroclaw University of Science and Technology, Wroclaw
Institute for Ferrous Metallurgy, Gliwice
Institute of Non-Ferrous Metals, Gliwice
Institute of High Pressure Physics, Polish Academy of Sciences, Warsaw
Institute of Fundamental Technological Research, Polish Academy of Sciences, Warsaw
Institute of Precision Mechanics, Warsaw
Faculty of Mechanical and Electrical Engineering, Polish Naval Academy, Gdynia
Institut Nationale des Sciences Appliquees, Lyon, France
Ecole des Mines de Saint-Etienne, France
Vysoka Skola Banska – Technicka Univerzita Ostrava, Czech Republic

Contact
Professor Jarosław Mizera
jaroslaw.mizera@pw.edu.pl
+48 22 234 87 29
Division of Materials Design