Division of Materials Design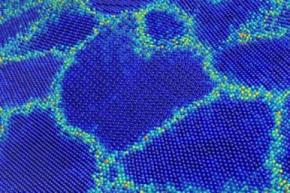 Research carried out in the Division of Materials Design focuses on the relationship between the structure and properties of materials in the context of microstructure optimization, control of properties, designing and manufacturing new materials, as well as operational degradation of materials.
The Division uses advanced methods for materials structure tests, including scanning and transmission electron microscopy, X-ray phase analysis, X-ray microanalysis, micro and nano X-ray computed tomography, etc. Investigation of the structure of materials is supported with image analysis and stereology methods combined with modelling methods, such as ab-initio, molecular dynamics, Monte Carlo, finite elements and fluid dynamics. Specialized mechanical tests, including tests with the use of micro-samples, allow to determine mechanical properties of materials in tension, compression, fatigue, and resistance to cracking. A significant part of our research concentrates on testing degradation of materials subjected to long-lasting operation in high temperature for the industry, inter alia with acoustic emission methods.
The research work of the Division focuses on ultra-fine-grained and nanocrystalline materials, biomaterials, materials used in aviation, conversion and power generation systems, shale gas mining, as well as material diagnostics of works of art and archaeological objects.
Professor Wojciech Święszkowski, Head of Division of Materials Design
Research groups