Materials for the mining industry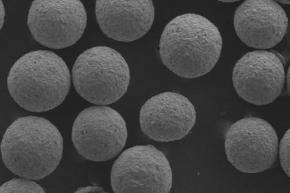 Research conducted by the team in the field of materials used in the mining industry concentrates on two main areas. The main point of interest is the development of new material solutions, including obtaining and studying the properties of polymeric binders, ceramic proppants and hydraulic fluids used in mining processes.
As part of this work, the research team carried out two research projects in the Blue Gas Programme and the PGNiG Project.
The second area of research is the analysis of degradation of materials in the conditions of gas and oil extraction and impact of hydrogen sulphide, carbon dioxide and liquids fracturing corrosion of iron system components and description of corrosion mechanisms.

Research activities
Influence of the structure of raw materials on strength properties and gas permeability of backfilling materials
The influence of natural polymers (i.a., including dextrin, carboxymethylcellulose ect.) and artificial (i.a., polyurethanes, poly[vinyl alcohol] ect.) used as binders and porogens to increase the physico-chemical properties of proppants obtained with the mechanical granulation method
Elaboration of slurries compositions used for production of ceramic proppants in a spray dryer
Development of sintering parameters of raw materials for correctness of strength properties of ceramic proppants
Development of new compositions of fracturing fluids used in the mining industry
Effect of hydrogen sulphide and carbon dioxide on the corrosion mechanism of structural steels in oil and gas installations

Research offer
Chemical analysis (XRF)
Phase analysis, crystalline texture and own stresses using an X-ray diffractometer (XRD)
Microstructure research using scanning electron microscopy (SEM)
Selection and studies of the effect of powder properties on the parameters of ceramic slurries and granulates used for the production of ceramic proppants
Preparation and testing of properties of polymer binders and fracturing fluids for the mining and ceramic industry
Preparation and studies of ceramic properties of the slurries to obtain ceramic proppants;
Research on rheological properties of polymers and fracturing fluids;
Particle size of ceramic powders analysis
Research on the properties of ceramic proppants in accordance with the PN-EN ISO 13503-2: 2010 standard
Surface tension studies of polymers and fracturing fluids

Research collaboration
Faculty of Materials Science and Ceramics, AGH University of Science and Technology, Cracow
The Institute of Ceramics and Building Materials, Warsaw
PGNiG
Baltic Ceramics
Indygo Minerals
Electroceramics S.A.

Contact
Professor Jarosław Mizera
jaroslaw.mizera@pw.edu.pl
+48 22 234 87 29
Division of Materials Design