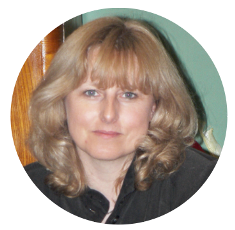 +48 22 234 77 62
anna.boczkowska

SPAMFILTER

@pw.edu.pl
Dean

Division of Ceramic Materials and Polymers
Education
MSc at the Faculty of Materials Science and Engineering of the Warsaw University of Technology, 1989
PhD in technical sciences at the Faculty of Materials Science and Engineering of the Warsaw University of Technology, 2000
habilitacja in technical sciences at the Faculty of Materials Science and Engineering of the Warsaw University of Technology, 2011
Professor of technical sciences, 2018
Research stays
Tecnalia, San Sebastian, Spain, 2015
Technische Universität Dresden, Institute of Lightweight Structures and Polymer Technology, Dresden, Germany, 2014
Institute Laue Langevin, Grenoble, France, 2007 i 2013
Dublin Institute of Technology, Photonics Research Centre, Dublin, Ireland, 2009 i 2010
University Erlangen-Nuremberg, Central Institute for New Materials and Processing Technology, Erlangen, Germany, 2009
European Synchrotron Radiation Facility (ESRF), Grenoble, France, 2008
Research
Areas of research: composites, polymers, nanomaterials, intelligent materials. The main area of interest is research of composite materials in the description of the relationship between manufacturing parameters and microstructure and properties.
The main topics of research are:
the possibility of increasing electrical and thermal conductivity of nanocomposites and polymer matrix composites reinforced with carbon fibers by using conductive nanofillers, mainly carbon nanotubes,
evaluation of the relationship between surface area of the interface and the ability of ceramic-elastomer composites with phase percolation to absorb impact energy,
effect of the microstructure on the magnetorheological effect in magnetorheological elastomers and the possibility of their application for active damping of vibration,
the possibility of using fiber optic sensors to measure deformations in polymer matrix composites,
self-healing of damage in composites with the system of microcapsules.
Member of many scientific councils, national and international scientific societies, e.g.: The Council of the Faculty of Materials Science and Engineering at the Warsaw University of Technology, Scientific Council of the Institute of Aviation, Scientific Council of KOMPOZYT-EXPO trade fair, Scientific Council of the ILL Grenoble Poland Consortium, Section of Polymers and Section of Composite Materials of the Materials Science Committee of the Polish Academy of Sciences, Member of the Polish Carbon Society (PTW), Polish Society of Composite Materials (PTMK), International Society of Optical Engineering (SPIE), American Association for the Advancement of Science (AAAS), American Chemical Society (ACS).
Publications
P. A. Bolimowski, R. Kozera, A. Boczkowska: Poly(urea-formaldehyde) microcapsules – synthesis and influence of stirring speed on capsules size, Polimery 63 (2018) 15.
A. Nicolau-Kuklińska, P. Latko-Durałek, P. Nakonieczna, K. Dydek, A. Boczkowska, J. Grygorczuk: A new electroactive polymer based on carbon nanotubes and carbon grease as compliant electrodes for electroactive actuators, J. Intell. Material Syst. Struct. 29 (2017) 1520.
J. Kozlowska, A. Boczkowska, A. Czulak, B. Przybyszewski, K. Holeczek, R. Stanik and M. Gude: Novel MRE/CFRP sandwich structures for adaptive vibration control. Smart Mater. Struct., 25 (2016) 035025.
P. Latko, D. Kołbuk, R. Kozera, A. Boczkowska: Microstructural characterization and mechanical properties of PA11 nanocomposite fibers, Journal of Materials Eng. and Performance 25 (2016) 68.
F. Kachold, R. Kozera, R. Singer, A. Boczkowska. Mechanical properties, surface structure and morphology of carbon fibers pre-heated for liquid aluminum infiltration. Journal of Materials Engineering and Performance 25 (2016) 1502.
Prizes
2016: First-Degree Individual Prize of the Warsaw University of Technology Rector for academic achievements in 2014-2015
2016: Medal of the Commission of National Education
2012: Second-Degree Individual Prize of the Warsaw University of Technology Rector for academic achievements in 2011
2011: First-Degree Team Prize of the Warsaw University of Technology Rector for academic achievements in 2010
2009: Medal for achievements at the Faculty of Mechanical Engineering of the Military University of Technology
2005: Team Prize of the Minister for National Education and Sports for "Implementation of technology of manufacturing of large-size products made of flame-retardant polymer composites (phenolic-glass)"
2004: Third-Degree Prize of the Warsaw University of Technology Rector for teaching achievements
Patents and patent applications
E. Piesowicz, A. Boczkowska, P. Latko, G. Putynkowski, W. Przetakiewicz, S. Paszkiewicz, Z. Rosłaniec, K. Gawdzińska, J. Zieliński: A method for recovering polymer for printing PETG substrates, EP 2 987 822 B1 z 30.8.2017
A. Boczkowska, M. Kubiś, E. Ciecierska, P. Chabera, T. Wiśniewski, P. Czarnocki, R. Świtkiewicz, W. Frączek, J. Marjanowski, R. Mikke, A. Papiorek: Materiał kompozytowy o osnowie polimerowej i sposób wytwarzania materiału kompozytowego, PAT.228039 z 25.9.2017
A. Boczkowska, P. Latko: Sposób wytwarzania włókien i włókniny z nanorurkami węglowymi, PL 221848 B1 z 30.06.2016
A. Boczkowska, A. Pietrzykowski, M. Marczewski, B. Sienkiewicz, E. Ciecierska, A.R. Kunicki, A. Olszyna: Sposób wytwarzania nanokompozytu uretanowo-mocznikowego i nanokompozyt uretanowo-mocznikowy, PL 213337 B1 z 28.02.2013
A. Boczkowska, Z. Jaegermann, A. Domańska, K. J. Kurzydłowski, K. Babski: Poliuretan bioresorbowalny, sposób wytwarzania poliuretanu bioresorbowalnego, kompozyt ceramika-poliuretan bioresorbowalny i sposób wytwarzania kompozytu ceramika-poliuretan bioresorbowalny, PL 212636 B1 z 30.11.2012
M. Szafran, A. Boczkowska, K. Konopka, K. Kurzydłowski, G. Rokicki, K. Batorski: Kompozyt ceramiczno-polimerowy i sposób wytwarzania kompozytu ceramiczno-polimerowego, PL 198281 B1 z 30.06.2008