Warsaw University of Technology with support from the European Funds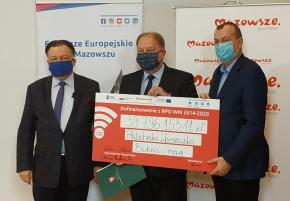 The funds will be spent to develop the research infrastructure and to set up a unique research and development center.
As part of the project two laboratories will be set up – a laboratory for aircraft and autonomous systems (located at the airport in Sieraków near Przasnysz), and a laboratory for materials and sensory technologies (located at the University campus, in the Building of the Faculty of Chemistry).
Once such research infrastructure is ready, it will be possible to work on the development of technologies used in small aircraft and autonomous flights of unmanned aircraft. Additionally, research will be conducted into joint operation of airspace monitoring systems. The project will also support development of technologies related to ecology, energy storage and energy efficiency of unmanned systems and light aviation. Also, the project will include works on new materials and innovative prototype systems for energy processing and storage.
Research conducted with the use of laboratories set up with the EU funds will also contribute to improvement of the environment, for instance through its beneficial impact on the development of energy efficient product technologies to be applied in various industries.
The Warsaw University of Technology will receive nearly PLN 39.8 million from the European Funds to carry out the project "Mazovian platform for materials and sensory technologies and their application in energy conversion and storage, electromobility, aviation and autonomous systems". An agreement on the support was signed on 29 December 2020 by the Marshal of the Mazowieckie Voivodeship, Adam Struzik, Deputy Marshal, Wiesław Raboszuk, and the Rector of the Warsaw University of Technology, Professor Krzysztof Zaremba.
The total value of the University project is over PLN 60.3 million.
The project will be implemented by 6 faculties of the Warsaw University of Technology: Faculty of Physics, Faculty of Power and Aeronautical Engineering, Faculty of Chemistry, Faculty of Electrical Engineering, Faculty of Materials Science and Engineering, Faculty of Electronics and Information Technology.