WUT Christmas Market 2022 is just around the corner!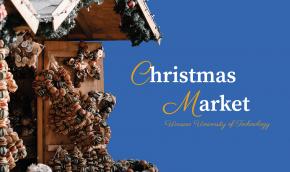 It has already become a tradition that at the beginning of December in front of the Main Building there are wooden chalets with Christmas specialties. The same is going to happen this year. Everyone is welcome from 1 to 3 December at 10.00-18.00.
The central point of the WUT Christmas Market 2022 will, obviously, be a chalet with our university gadgets. Among them, there will be new designs of the WUT iconic socks. We have also prepared - among others - cups, bags, games and sweets. For the first time, our Market will also feature handicrafts made and handed over by students, doctoral students and WUT employees.
All gadgets and products will be available in exchange for a donation – like in previous years, the collected money will be allocated to the Christmas Scholarship - a special distinction for talented and active students and doctoral students.
Attention, we accept donations only in cash, however, the nearest ATM is in the lobby of the Main Building.
On December 1, the opening day of the Christmas Market, we will meet the winners of this year's edition of the Scholarship, and will formally present them with prizes. We have raised funds for this purpose thanks to the generosity of the participants of last year's Christmas Market - thanks to this, we will distribute 27,420.60 PLN.
On the first day of the even, there will also be the premiere of a new Christmas illumination of the Main Building and the handover of Christmas trees to the WUT faculties.
Admission to our three-day event is free. We strongly encourage everyone to participate!