New nanomethod for surface sterility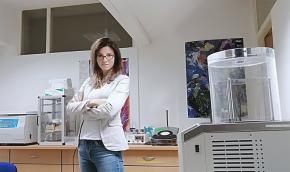 Researchers at the Faculty of Materials Science and Engineering have developed a technology that protects any surface from harmful microorganisms. The solution uses bioactive nanoparticle composites applied in the form of a permanent coating.
– Nanoparticle composites as powder or nanocolloid can be a sterilizing component to nearly all materials – explains the team leader, Agnieszka Jastrzębska, Ph.D (Eng), university professor from the Faculty of Materials Engineering. – This allows such products to be used in areas and on surfaces that are particularly susceptible to the spread of pathogenic microorganisms.
There are many more advantages to the technology developed at WUT.

Limitations? Only the imagination
The manufacturing process is based on a simple concept, and low time and energy consumption. That is what makes it affordable.
Furthermore, production is characterized by a great degree of flexibility. The combination of possible chemical compositions of the produced nanoparticles is practically unlimited. The chemical composition and parameters of nanocomposites can be adapted to the specific requirements of the recipient. The only limitation is the imagination of the creators of the nanostructure.

Safety and efficacy
Active nanoparticle coatings are stable thanks to a new technology developed and patented at WUT. They retain their self-sterilizing capabilities and do not release single silver or copper nanoparticles that could be absorbed by the cells of living organisms. Nanocomposite systems, unlike free toxic nanoparticles, are thus environmentally friendly.
– Nanoparticles are characterised by their near-total biocidal efficacy, as well as a hyperadditive effect, i.e. the potentialisation or intensification of the activity of silver and copper nanoparticles, which, when combined, forms a specific ion barrier against pathogenic bacterias – explains Prof. Jastrzębska.
This means they are already being used on the market in offset printing coatings. For this implementation, the team from WUT received the Minister of Education and Science Award in 2021.
Plastic alterations, such as biodegradable, intelligent fabrics, paints, varnishes, and soils, are also close to being implemented by researchers to protect structural components (such as concrete, plaster or wood).

Science meets the needs
Disinfectants are another major field in which such nanostructures can be used. The market is already showing great interest in the developed solution. Companies are currently approaching researchers to see if they can test it in their products.
– Nanoparticle sterilizing composites and efficient manufacturing technologies are a scientific response to commercial need – points out Prof. Jastrzębska. – This is an extremely important social issue, especially in the era of the coronavirus, and materials with unique bioactive properties gain social significance. We also hope that the knowledge and experience we have gained will enable us to protect ourselves against further epidemics.