Materials engineering in the spotlight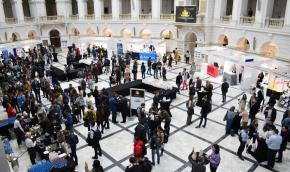 Nearly a thousand participants from over 50 countries came to the Warsaw University of Technology for the E-MRS 2022 Fall Meeting conference where the latest developments and trends in materials science were presented during lectures, workshops and exhibitions.
The E-MRS conference consisted of 16 thematic symposia divided into 4 clusters: Functional Materials, Nanomaterials, Broadband Semiconductors, and Materials for Sustainable Development.
Plenary lectures focused on the latest issues in the field of materials science, including one- and two-dimensional crystals and thin layers. A workshop dedicated to material recycling is also worth mentioning. Its role was to help define the most important issues in this area, for example, how lithium-ion batteries or photovoltaic panels can be reused. One of the events of the E-MRS 2022 Fall Meeting was also a competition for doctoral students, who had to present their achievements in 3 minutes. The challenge was taken up by 30 participants. The three best presentations received awards.
A highlight of the conference was the plenary session, during which the Jan Czochralski Gold Medal for lifetime achievement was awarded. This year's winner is Prof. Joseph Green from the University of Illinois, USA.
"We are very happy that after a two-year break caused by the pandemic, the E-MRS Fall Meeting conference returned to the halls of the Warsaw University of Technology, and immediately on such a large scale," said Prof. Małgorzata Lewandowska from the Faculty of Materials Science and the organizing committee of the event. "It was very nice to see old friends who have been participating in our conference for years, as well as new generations, especially doctoral students."
The E-MRS 2022 Fall Meeting conference took place on 19-22 September 2022.