Lindau Nobel Laureate Meeting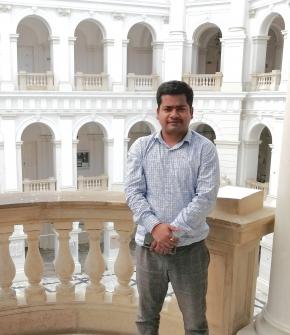 Dr. Madhurya Chandel has been invited to attend the 71st Lindau Nobel Laureates Meeting at Lindau (Germany) from 26 June–to 1 July 2022.
Dr. Chandel has been selected for this prestigious opportunity by clearing a highly competitive and two-stage selection procedure. In the first round, he was nominated for the DST-DFG Awards by the Department of Science & Technology (DST) India. He was then selected as one of the participants among 660 young scientists from 101 countries by the Lindau Nobel Laureate council. On this occasion, Dr. Madhurya Chandel shared, This is an incredible opportunity for me, and I am so excited and truly honored to be invited to the 71st Lindau Nobel Laureate Meetings in person. This opportunity will provide me with a platform from where I can meet talented and brilliant researchers of the world, which will help me work toward developing new techniques for the betterment of society and humankind. I am very thankful to representing Warsaw University of Technology on the meeting.

Currently, Dr. Chandel is working as a Research Assistant Professor in a "National Science Center" funded OPUS 18 project to develop the fabrication techniques and explore the functional properties of MXene-based systems to advance the development of next-generation smart systems and devices, at Professor Agnieszka Jastrzębska's Lab Faculty of Materials Science and Engineering, Warsaw University of Technology. He has finished his Master's from Sardar Vallabhbhai National Institute of Technology, Surat (India) and Ph.D. from Birla Institute of Technology and Science Pilani (India).
Since 1951, Nobel Prize winners in Chemistry, Physics, Physiology, or Medicine have been meeting in Lindau, Germany, to discuss their research, significant issues related to current development, and the importance of their research work with young scientists from around the world. These meetings include a week of discussion and exchange of the research of the respective field, lectures, panel/ round-table discussions on interdisciplinary topics, and informal small-group sessions with the Nobel Prize winners scientist.