Information for students of the first year of master's studies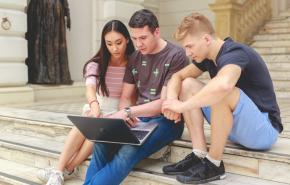 Information for students of the first year of master's studies, starting from the summer semester of the year 2021/2022.
Academic oath
The academic oath must be accepted at USOSweb within 14 days from the beginning of the semester. Persons who do not accept the oath within the given period will be subject to proceedings for removal from the list of students.
Remark! The commencement of studies and the acquisition of student rights takes place at the moment of taking the academic oath; for this reason, we ask to meet the deadlines.

Student ID card
The student ID card is printed after the payment to the WUT account. The fee (22 PLN) should be paid to the individual bank account provided on the account in USOSweb (Bookmark: Accounting).

USOSWeb System
https://usosweb.usos.pw.edu.pl
E-mail WUT
Students must use their individual e-mail addresses in the WUT domain to send e-mails in individual cases. All correspondence from the University in personal student matters is sent only to an individual e-mail address in the WUT domain.
The username (login) information can be found in the USOSweb system - the Studen's Section and the Office 365 Section.
MS TEAMS
In the case of remote classes, the MS Teams Platform will be used. The login details are the same as for the WUT mail.

Obligatory Health and Safety Training
- 10.03.2022 at 14:15-16:00, IM 315 – English studies (Biomaterials)
Obligatory Library Training
Each student is obliged to complete an obligatory library training as an e-course. Information on the dates of training will be provided on the Faculty and the Main Library website.
Faculty Library – Faculty of Materials Science and Engineering, 141 Wołoska St.
Main Library of the Warsaw University of Technology-Main Building of the Warsaw University of Technology, Pl. Politechniki 1
Fees for teaching and other forms of education
The amount of fees for studies at the Warsaw University of Technology is determined by the university authorities' relevant regulations.
https://www.pw.edu.pl/engpw/Academics/Academic-Regulations
Watch and tag us:
https://www.facebook.com/WIMPW