In solidarity with Ukraine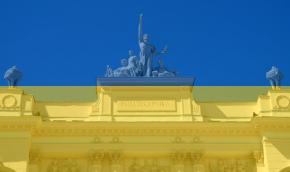 The academic community of the Warsaw University of Technology stands in full solidarity with the Ukrainian nation at this harrowing moment for our neighbor. Nothing can justify the military aggression that Russia has carried out against Ukraine.
In Europe so terribly affected by the drama of World War II, resulting in millions of victims, the behavior of the Russian authorities raises legitimate concerns about the future of the entire continent.
We all want to live in peace, and the only way to resolve conflicts should be a dialogue - this is a position that the authorities of the Warsaw University of Technology, its employees, and students including doctoral students want to express firmly and unequivocally. We sincerely hope that hostilities will be stopped as soon as possible, replaced by talks with respect for the borders of countries recognized by the international community.
We are fully aware that this is a critical moment for all of us. That is why the Warsaw University of Technology provides psychological help to those members of our academic community whose current events cause fear and anxiety. We are also considering introducing tools that can help students, PhD students and employees of our University coming from Ukraine. If necessary, they will be launched so that the students and employees can continue their studies and work at the Warsaw University of Technology.
Please follow the information in a special tab WUT in Solidarity with Ukraine.