Help for Ukraine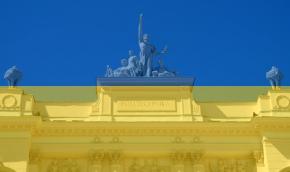 In the Main Building of the Warsaw University of Technology there is a central collection point, where we collect long-term storage food, cosmetics and chemicals, bandages, new blankets and sleeping bags.
Central collection point of items for Ukraine
The items will be handed over to the Masovian branch of the Polish Red Cross, and from there they will be delivered to the needy ones.
The University collection point is located in the former bookstore at the Main Hall, on level 0, and is open all week, also at weekends, from from 8 to 20. WUT students and employees are involved in collecting the gifts.
Important! As part of the action, we collect items from the following list:
long-term storage food: canned food, oil, sugar, pasta, flour, groats, rice, tea, coffee, sweets, UHT milk, canned vegetables / fruit (e.g. beans, peas, corn, pineapple, peach), tomato puree in cardboard boxes, dried fruit, nuts,
cosmetics and chemicals: shower gels, shampoos, soaps, toothbrushes and toothpaste, barrier creams, sanitary napkins, diapers for children, washing liquids, dishwashing liquids,
bandages, especially dressing for wounds and burns: thermal blankets, sterile gases, sterile compresses, knitted bands, elastic bandages, ampoules of saline, disinfectants, disposable gloves, sterile dressing wraps, tourniquets, scissors for dressings.
new blankets and sleeping bags.
Important! We do not collect clothes.

Raising money for Ukraine
Our neighbors need concrete and fast help. Warsaw University of Technology is raising money which will be transferred to the National Bank of Ukraine (NBU) through Bank Gospodarstwa Krajowego (BGK). The NBU will use the funds to allocate them to the necessary activities.
Link do the raising money: https://zbieram.pl/9xkf344
More information on the activities of WUT in the tab WUT in solidarity of Ukraine